The hotel is a place where the traveler seeks relaxation, rest and quiet, a place to recharge the batteries whether it is for a leisure or business trip.
Therefore, the exterior design of the hotel is the crucial point behind the hotelier's work, everything inside the structure must be chosen in such a way that it conveys a feeling of comfort, cleanliness and well-being; from the hall to the rooms, from the common areas to the corridors every space is important and should not be neglected. The image perceived by the customer is essential, he relies on this when he has to choose which structure to stay in and if he will choose us a second time it is because during his stay he was able to verify the truthfulness of it firsthand and was satisfied with it.
Hotel furniture: what to pay attention
First of all, we need to establish the style we want to give to the hotel, also consider the type of clientele we target and the location where our facility is located. There are two main styles to choose from: the classic style, where wood will prevail, or the modern style characterized by metal surfaces. Both have a thousand facets and variations to follow, the important thing is to define our choice well and follow it in all the furnishings of the structure, giving uniformity, but at the same time we must not fall into standardization, it is important to give uniqueness in order to stand out from ours competitors.
The hotel lobby is our business card as it is the first environment with which the customer comes into contact, and must therefore express the personality and style of our structure. It must have a fairly large size compared to the hotel, if this is not possible it is advisable to eliminate all the elements that make it smaller and adopt solutions that give airiness such as large windows.
Essential is the provision of a large reception desk, long and wide, which allows the employees to carry out a fast and efficient work, equipped with all the necessary equipment: computer, printer, telephone, fax, etc.
In the immediate vicinity, possibly in front, there must be sofas and armchairs in which customers can stop waiting.
Even if this is a "neutral" area of our structure, it is good to personalize it by adding paintings or photos to the walls, some design object that furnishes and gives character: a lamp, a coffee table; or plants that give color and liveliness.
It is necessary to make this space interesting for the customer, by inserting brochures and informative material of our services or useful suggestions for the stay: events in the area or places to visit. It is also possible to arrange a small display case or corner with small particular and characteristic souvenirs, perhaps different from the classic product that can be found in the surroundings.
To remember that kindness always pays, offering something to our customer is always a good thing, but better try to be original and creative in order to stand out and be remembered, instead of the usual candies or chocolates why not opt for tea bags , tastings of local products or small special gadgets to take with you.
Interior Design: The rooms

The rooms are the main place of the hotel, an environment in which the customer spends most of his time and which must be designed with attention and care down to the smallest detail.
Although they must be fairly depersonalized in order to accommodate every type of customer, they must be welcoming, comfortable and offer a range of comforts and services at the same time.
Logically, the choice of the furniture and in particular the bed is linked to the style we have chosen for our hotel.
Whatever the theme we have decided to follow, there are small details that the furniture of this type of structure needs: anti-scratch coatings, anti-damp finishes, sturdy furniture hinges and in greater numbers than those of a classic piece of furniture; all details that will allow you to take advantage of the furniture longer as it is subject to faster wear. In light of this, it is preferable to choose a quality product, perhaps at a higher cost but which guarantees a longer duration.
The bed is the main element of the room, there are various types and sizes; preferably choose the sommier, wooden structures resting on four supports covered with different types of materials from eco-leather to fabric, which give value compared to a simple bed base.
The choice of a particular headboard can instead be an alternative way to give character to the room, usually it is placed against the north wall because different currents claim that this location favors sleep. We must certainly consider the size of the room, if it is medium or small it is advisable to place the bed on a wall, while if the room is large we can dare by placing it in the center or diagonally.
Another element that enhances the bed is the choice of linen, which must be of good quality, always clean and ironed, preferably light in color. For the sheets, it is better to prefer the classic white which gives a sense of greater cleanliness and hygiene and less difficulty in washing as if necessary it can be washed in bleach or at high temperatures.
For the bedspread, on the other hand, you can choose different colors but it is advisable to choose neutral colors: dove gray, beige, gray, or burgundy or blue but in the same color or with small geometric patterns, in opaque shades. Of fundamental importance the mattress and pillows must be hypoallergenic and breathable. Whether you opt for a polyurethane mattress or a spring mattress, the important thing is that it guarantees a good rest and that it is fireproof, the laws on the subject are rigid and clear.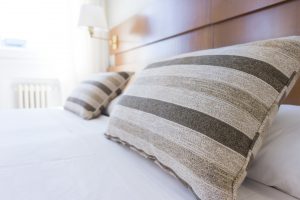 With regard to cushions, the possibility of choosing between different types of cushions is increasingly widespread, especially in high-level structures, in order to best meet the customer's needs and guarantee a perfect rest.
Curtains are another important element that in addition to their practical function have a decorative purpose. It is necessary to choose a type that allows a simple and easy use, making sure to put the instructions visible to the customer is a way to avoid frequent breakages. For the colors or patterns, the important thing is to maintain a continuity of style within the room; today the market offers many variants to choose from, however, avoid adding too much to the atmosphere, especially if the room is small. The room must be equipped with a wardrobe where the customer can store his objects comfortably and additional blankets and pillows can also find space. Inside there must be a top, a stick to hang clothes and hangers, usually a small safe is also placed for the customer. It is necessary to prepare a support point or a desk, essential if our clientele is above all business, in this case it is advisable to add an adjustable table light and place power sockets for PCs and a socket for internet connection if the Wifi is off. Very welcome are document folders with some sheets of paper or a notepad and pens or pencils, better if customized with our logo so that the customer, taking them with him, remembers us. Finally, we can also place brochures here that explain our services and contain useful information.
Inside the room there is a minibar, stocked with water, various drinks and some snacks. The presence of the kettle is much appreciated, especially by international customers, with a small selection of herbal teas or teas; the Italian customer, on the other hand, prefers coffee, so you can consider inserting an espresso coffee machine with pods or capsules. We can also insert books, crosswords, cards, or some games, that could be enjoyed by young and old.
You can think of many elements to be placed in a single room, but the market, however, offers various space-saving solutions, such as vertical cabinets or to hang on the wall. If our clientele is characterized by families with children, it is advisable to equip the rooms with some special arrangements, cots, cribs and changing tables and offer a small courtesy kit for the bath.
Finally, a TV cannot be missing, positioned in such a way as to make it easy to use, to save space you can opt for the wall version perhaps equipped with an adjustable bracket, and a mirror, preferably large enough to allow the entire view. If placed in the right position it can act as furniture and in small rooms amplify the perception of space.
Flooring, Fixtures, Color
Other fundamental aspects of the room are the flooring, the fixtures and the color. As for the flooring, the variants to choose from are many but mainly you need to choose a resistant and easy-to-maintain material. Doors and fixtures, on the other hand, are important with regard to acoustics and thermal insulation, the choice must therefore be weighted on performance in these terms. In fact, the customer seeks peace and relaxation and good soundproofing between the various rooms and towards the outside is essential. A good thermal insulation, on the other hand, allows us to maintain the desired temperature without waste, indeed probably obtaining a reduction in costs. Finally, inside a room, the walls and their color should not be overlooked. If you do not want to opt for the usual white, it is better to prefer soft colors, which favor tranquility; bright or dark colors are to be avoided because in addition to getting tired faster they tend to make you nervous. An alternative is to use wallpaper, with geometric or floral prints, the important thing is to dose its use in the right way, perhaps alternating it with colors so as not to create a gloomy and suffocating environment. The walls, whether white or colored, should not be left bare especially if the room is large, hanging some paintings or photographs is ideal, perhaps opting for colored paintings if the walls are white, or choose photos that recall the territory or the city where the hotel is located.
The bathroom is the second place besides the room that makes the difference in a hotel; cleanliness and functionality are the elements that must characterize it. It is advisable to provide soft and fragrant towels, preferably white ones that convey a greater sense of cleanliness. It is important to equip this space with some basic accessories: the hairdryer, the mirror and the courtesy kit; it is also necessary to prepare shelves or support surfaces, where the customer can store his personal effects.
The hotels are also equipped with various types of common areas that differ according to the offer proposed and the type of clientele, we can find meeting rooms, baby rooms, spas and wellness centers, all spaces that require specific design. The breakfast room, on the other hand, is common to all the structures, an environment whose centrality is often underestimated, in fact it is frequented daily by all customers and is the last place where he pauses before paying the bill and leaving the room. structure. It is therefore necessary to prepare it in the best possible way: functional, practical, well supplied; lights, furniture, service everything must be impeccable in order to leave a good memory.
Some hotels also have a restaurant and a bar; linked or not directly to the hotel, they must blend well with the rest of the structure and must not at the same time create disruptions to it; the important thing is to offer a service, even simple, but of good quality; the same goes for the furniture with which they are furnished.
Areas often mistakenly overlooked are corridors and elevators, often impersonal and standardized, which can prove to be a point in our favor. The elevator is a place that the customer frequents several times a day and where he often does not know how to use the time, it is therefore perfect for transmitting useful information and suggestions, we can insert signs that illustrate the services we offer or that provide useful information . The corridors can be perfect to characterize us, we can place paintings, ornaments, plants in them, all elements that would be cluttered in the rooms but which, inserted here, give personality. Finally, in each hotel there is an area not accessible to customers which, however, must not be neglected in the design phase. The office and warehouse area is often reduced to the maximum in favor of space for customers. It must be remembered that this is where finances are managed, decisions are made and all the work that is behind the proper functioning of the hotel is carried out; it is therefore necessary to create comfortable offices that allow you to work in a pleasant and functional environment, even though it may be small in size. For the warehouse, a good division of space and a precise and orderly organization will allow optimization of time and work. In conclusion, the best choice for hotel furniture is to create an environment where the customer feels welcomed, pampered and feel confortable; let's look for a style and make it our own, let's make ourselves unique in the eyes of the customer only in this way he will remember us,
---